If Generating Income on the Internet Month after Month Gets You Excited, Then You Need To Read This Whole Message Carefully!
At Last... Learn a Simple and Effective Way
to Build Your First Recurring Online Income System to Generate Multiple Streams of Cash on the Internet Every Month...
...and It All Begins With Selling One Single Infoproduct!
From: Zamri Nanyan & Khairil Anizan
Date: 30 /10/2007
Dear friend,

This came to me as a BIG shock!

Look what I've got in my email box below and tell me if you don't see a problem.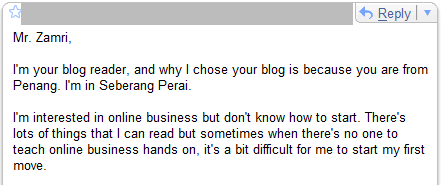 Sounds familiar?

Those are only 3 of the many distressful real emails that I received from internet marketer wannabes asking me about how to make money on the internet - and maybe one of those emails came from you.

Yes, it's sad... frustrating... and helpless.

You built a website... hoping to sell your best infoproduct ever... and then got disappointed by the zero-response results.

It seems that you did everything right but why aren't you still not succeeding?

Well, look closely and the culprit is really staring at you... right in front of your eyes.

You know what?

Here's the real problem...

You are trying to compete with the big boys... in the cut-throat internet marketing arena... in a very wide international market... which marketing is your worst field ever.

Heck! You don't even know how to start a business online.

I'm sorry if my language is a bit harsh but reality always bites.
"YOU Lost A Battle You've NOT Even Started!"


The Wake-up Call

I know... I've been there and gone through the hardship of making a single sale online and I can tell you it's not fun at all.
I understand!

All this while I've been researching the effective ways to solve this problem for you... but I can't seem to find the best ones except to tell you to bite the bullet and charge through the huge internet marketing jungle anyway - which I know is the worst advice ever.

Yeah... I can tell you to build more websites for Google Adsense, be consistent and keep on building websites - but that is not the real answer that I was looking for.

I wanted to tell you how you can sell an ebook that people will buy!... and make more money residually every month from its back-end sales.

That is why I was frustrated and got nowhere in finding the right answer.


The Answers You Wanted


Then, it all happened...

On one fine day late last year, I got a chance to meet our very own Malaysian internet millionaire and you can guess what actually came out from my mouth...

"If you were to start all over again, how are you going to do it?"

He said, "I'll tap into the local market."

I was dumbfounded and disbelieved.

All this while, I've seen him marketing on the internet to the competitive international market... making millions of dollars... and this internet millionaire is telling me to harvest on our own backyard.

Obviously, I'm not satisfied at all...

"Why the local market?", I asked.

"Well, it's a fresh market and you have very little competition... it's like going into a virgin market with lots of gold to mine. After all, the grass only seems greener on the other side. Why don't you give it a try?"

I was a bit annoyed with the answer.

Not taking his word lightly, I took it as a challenge myself... not because I believed in him... but, frankly speaking, with my ego sky-high, I wanted to prove him wrong.

So, I built a simple direct response website and started selling a 101-page ebook in a language different than English.

To my amazement, I banked in RM4,131 (over USD1,137) in only 10 days and the ebook is still selling like hot cakes until today.

Now, I'm all smiles!

Just look at the screenshot of the few sales that I made in one day. Note that they are not even in the US Dollar currency!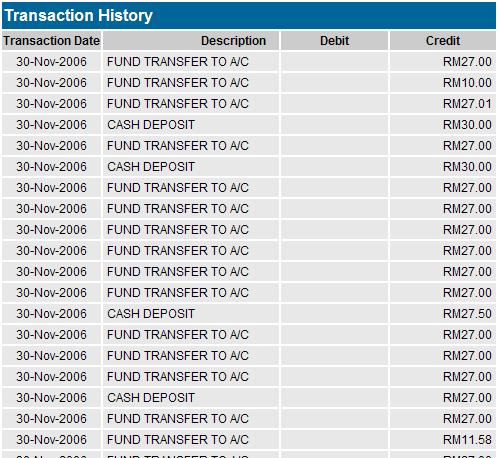 I was wrong...

And, my internet millionaire friend was 100% completely right.

Although the money is not as much as you can make from the global market... YOU Can Still Make a Good Income from The Internet in Your Local Market!

And you don't have to worry about leveling the playing fields with those established big boys from the United States, UK or Australia.
At least not when you are really ready.

I made USD $7,776 within 4 short months, selling a 12-page ebook to the local market, and I used some of the methods written by Zamri Nanyan in his "Online Profits Made Simple" ebook.

It's true! You can create cash on the internet in your local market, but that is only half the story.

"Online Profits Made Simple" expands more by showing you how you can generate extra recurring income by injecting a few clever twists.

You definitely don't want to miss reading this ebook!

Gobala Krishnan
www.MalaysianRevolution.com
Brilliant! A simple step-by-step guide that any Malaysian can easily follow and replicate.

One of the biggest hurdles in Internet marketing is getting your product out there among the millions of Internet users ... and making the 1st sale.

By narrowing your target market to the local market, you've improved your odds of success tremendously.

Zamri's twist on generating a passive monthly recurring income is simply brilliant.

Would you invest $6 per month (that's less than a meal for two at McDonald's) to potentially earn hundreds of dollars?

I know I would. I recommend you pick up a copy of Zamri's report today.


Best wishes,
Adrian Ling
www.AffiliateShield.com
I Was About To Be Foolishly Selfish!

After this new discovery, I thought I should keep this "make-money-online-in-my-local-market" niche secret to myself... and bank in as much as possible before anyone else discovers it.

I know that greed was about to take over me.

But, soon I realized that sharing the cake with others is more fun than having it all alone.

The more people to share, the merrier!

And money is enough to go around to those who put effort in getting it.

That is when I started writing a simple guide for you to learn and apply a simple strategy to build your first online recurring income system.
In this ebook, I tell you how you can generate income from the internet 24 hours a day, 7 days a week, selling infoproduct that people buy. Then, I go on telling you how you can build your online recurring income with a potential of making over USD$4,915.20 every month.
But the best part is... I also cover a section which talks about selling your infoproduct to the local market (this is important) and it doesn't even require you to register an online credit card payment processing service.
Not only that, I make it so simple that almost anyone who can read this message, can do it.
What more? The knowledge that you'll learn in this ebook can be applied when you go into the international market once you are ready. You'll be better equipped.
However, don't expect anything illegal, new or complicated materials in this ebook.
In fact, you'd be surprised that making money on the internet doesn't really have to be complicated - if you know how to make it work.
I take you back to the basics with a more powerful twist.
Presenting "Online Profits Made Simple!"

Now, you never have to worry about competing in a fierce global internet marketing niche anymore... because my ebook it the answer to your burning question.

I call this concise ebook "Online Profits Made Simple!"

Like the cover says, it really is a simple guide uniquely written for you.

It is only 37 pages long but don't mistake the number of pages with the information in the ebook... because I removed all the fillers and stuffed only the red good meat inside.

So, you are really getting the value from your investment.

Coupled with my 5 years of online marketing experience and the new discovery of the untapped "Ringgit-Rich" local market, my new "Online Profits Made Simple!" will answer many hidden secrets that local marketers are not willing to honestly share yet.

Here's a few of what you'll discover in this ebook:

| | |
| --- | --- |
| | How to inexpensively acquire a local infoproduct to sell on the internet - You can either create your own infoproduct such as an ebook or use the method that I reveal inside. The latter is much more easier and profitable |
| | How to accept payment on the internet - You need to know how to accept payment online if you are selling your own product. There are 3 methods that I use but which one is really suitable for the local market? Failing to understand this will result in the loss of over 80% of your revenue. |
| | How to create a multiple streams of internet income without coming up with 10-20 products on your own - It is as easy as linking to a few websites of your choice. You will learn this skill towards the end of this ebook. |
| | How to generate a monthly recurring income and that income has a potential to grow up to $4,957 or more. The best part is that you already need this tool. So, why not make money from it? |
| | How to build a system to profit from both front-end and back-end products effortlessly. If you don't know the secret yet, lots of marketers make more money selling back-end than their front-end products, and this should be a clue on how you run a business on the internet. |
| | How to turn "tools you MUST Have" to build your internet business into profits. Choose Company X or Ki_s_, but if Ki_s_ has a potential to make money, why go for Company X? |
| | How to leverage on other people's efforts to generate your own income. And, you know what? These people are more than happy to help you build your income for a SOLID reason. |
...and much much more that I will reveal inside!

But I MUST warn you again!

This ebook is really created for you to start making your first income on the internet. There's no fluff or hype involved and you can't go wrong with my experience and knowledge that I grasped along my 5 years marketing online.

At the end of the day, you'll get a great product to sell and a potential to build your first online recurring income yourself...

This is what I call "Eagle" view of Internet Marketing. Zamri Nanyan has precisely outlined what is possible in Internet business and the method to get there.
When it comes to internet business, he is a go to guy from many local Internet Marketers here. His wisdom and experiences in working with the best marketers from all over the world are something that we all can learn and benefit from.
In this guide, he makes it simple and even teaches us how to leverage our effort.
This is the master speaking and all who wish to become his students, this guide is a must have.
It's an eagle view, after that it depends on you how high you want to fly.
Good luck!
Sabri HA
Technical Director
SaifulSham Consultants
EcommerceMastery.com
SaifulSham.com

If you want to learn something, learn from the master.
Zamri Nanyan is a master in Internet Marketing
and he is going to share with you a comprehensive guide that will teach you, how one hard work, can give you recurring income for a very-very long period.
This ebook is a must have for anyone who want to make money on internet, no matter you are newbie or veteran.

Samsul Zamzuri Abu Bakar @ Alang
www.szab.net/blog

Wow Zamri!
This e-book is really simple but has lots of info that I've gained! No wonder you're an expert in online network marketing and I really thank you for your helpful e-book.

I didn't notice that earlier... but with your "Secrets Revealed" in your e-book, I can now multiply my money and that's what I like, which is not doing lots of jobs but the money keeps coming in every month ;)

Again Zamri, thanks for your "Online Profit Made
Simple". This e-book is a MUST have for online
entrepreneurs.

Hafiz Latib
www.MalaysiaPal.com
Zamri has done a brilliant job at taking the online business model and breaking it into simple and easy steps that any Malaysian can follow.
Online Profits Made Simple is exactly what new Malaysian marketers should be exposed to.
Do yourself a favor and check out Zamri's report and then follow his steps to create your own extra stream of income.
David Kwan
www.BeatNameSqueeze.Com

Hi Zamri,
You have pointed out the single most important key factor in making money online - The local market.
This guide is well written for one purpose, that is to tell you how easy to do and how you can do it too, using a simple product to penetrate into the local market easily! The best still, this is a long term
residual income
.
If you are willing to sacrifice $10 bucks (that is equivalent to 3 Burger King Meals) to invest into this guide, you will be surprised on how easy you can do the same.
All you need to do after reading this guide is duplicate the simple step-by-step formula and that's it. You are on your way to earn your monthly residual income.
To your success,
Steven Wong
www.AllNicheVideo.com
So, How Much Is It Going To Cost Me?
Seriously speaking, I could easily modify the content of "Online Profits Made Simple!" ebook for the international market and put a USD$37 stamp on it... and quickly and steadily sell it without guilt.
Or... maybe by the time you read this message, the international version is already out there in the market.
But, I won't charge you close to that figure!... simply because I know that I could help many more local soon-to-be netpreneurs if I could make it affordable to you.
It took me several nights to make my final decision on the price.
The pain and troubles of writing "Online Profits Made Simple!" (and also this winning sales letter) - word by word - warrant me to put a firmed USD$27 price on this ebook, and I was determined to do that.
After all... it was all me alone writing this infoproduct from scratch.
So, why should I sell if for less?
However, you are in luck today!
I'm doing a market research for this ebook and "Online Profits Made Simple!" is now at an incredibly low price of USD$17 USD $9.97 (or RM57 RM37) and you can't get any lower than that.
But, I can't guarantee that I can keep "Online Profits Made Simple!" at this price at any time.
I can switch the price back to USD$27 without notice next week, tomorrow, an hour from now or immediately after you close this web browser.
The only guarantee that you will get "Online Profits Made Simple!" at USD $9.97 (RM37) is when you order this ebook now!
So, make your smart decision and order "Online Profits Made Simple!" at USD $9.97 today.
Fast Action Bonus
As if the insane price is not enough, look at what other bonuses I'm giving you when you place your order now.
Bonus #1 : Web Browser Traffic Report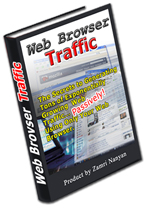 Learn how to generate free traffic by opening your web browser. Why waste your web surfing activity when you can actually build free web traffic to your website? If you don't know how to do it, then, this is the report that you need to read. It's fully customizable and you can use it for viral marketing purpose as well. ($17 value)
Bonus #2 : "Online Profits Made Simple" Marketing Strategy
Learn how to make full use of "Online Profits Made Simple!" ebook by designing an effective marketing strategy for long term online presence and generating loyal followers. Some would agree that this ebook could have been sold as "Online Profits Made Simple - Part II" and I could possibly stop giving this as a free bonus and start selling it immediately. ($17 value)
Bonus #3 : Master Resale Rights to "Online Profits Made Simple!"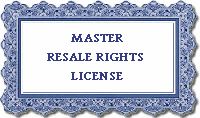 This bonus gift alone is worth the entire ebook (and more). With the purchase of this ebook today, you can now take "Online Profits Made Simple" ebook and resell it back.
It comes with this awesome sales letter, ebook graphics and minisite template. All you need to do is modify your payment particulars and sell it on your website. With just one sale, your investment on this ebook is already covered. Sell more copies and you're already in profit. (a real $197 value)
Payment by Bank-in to MayBank
Click Below :

or
Payment by E-GOLD
Click Below :

Payment by PAYPAL
Click Below :

Guarantee! All transactions on this website is highly secure as they are handled by trusted third party payment processors. Order through Credit Card or PayPal is automatic and you'll get to download the ebook immediately after your order is verified. Payment by bank-in, internet transfer or ATM deposit to MayBank account will take up to 2 days to be verified.
So, don't wait anymore!
ORDER With Confidence!
CLICK HERE :
(MAYBANK) (EGOLD) (PAYPAL)
Here's to your first online profits!
warmly,
Zamri Nanyan & Khairil Anizan
PS. Online Profits Made Simple is not only a concise, easy-to-read ebook, but it is also a system to generate recurring online income every month. You can grab this opportunity and use Online Profits Made Simple to create front-end profits and multiple back-end sales in one shot.
PPS. You also get a real $197 value of Master Resale Rights to Online Profits Made Simple where you can resell back this ebook and collect 100% of the money from your sales. It comes with a carefully written sales latter, beautiful graphics and a clean minisite template.
PPPS. Secure your order at an incredibly low price now as it may go up anytime soon without further notice. The faster you make your decision, the higher your chances of generating that awesome back-end monthly recurring income (psst. It's a secret that I reveal towards the end of Online Profits Made Simple ebook). Hurry!
Earnings Disclaimer
EVERY EFFORT HAS BEEN MADE TO ACCURATELY REPRESENT THIS PRODUCT AND IT'S POTENTIAL. EVEN THOUGH THIS INDUSTRY IS ONE OF THE FEW WHERE ONE CAN WRITE THEIR OWN CHECK IN TERMS OF EARNINGS, THERE IS NO GUARANTEE THAT YOU WILL EARN ANY MONEY USING THE TECHNIQUES AND IDEAS IN THESE MATERIALS. EXAMPLES IN THESE MATERIALS ARE NOT TO BE INTERPRETED AS A PROMISE OR GUARANTEE OF EARNINGS. EARNING POTENTIAL IS ENTIRELY DEPENDENT ON THE PERSON USING OUR PRODUCT, IDEAS AND TECHNIQUES. WE DO NOT PURPORT THIS AS A "GET RICH SCHEME."

ANY CLAIMS MADE OF ACTUAL EARNINGS OR EXAMPLES OF ACTUAL RESULTS CAN BE VERIFIED UPON REQUEST. YOUR LEVEL OF SUCCESS IN ATTAINING THE RESULTS CLAIMED IN OUR MATERIALS DEPENDS ON THE TIME YOU DEVOTE TO THE PROGRAM, IDEAS AND TECHNIQUES MENTIONED, YOUR FINANCES, KNOWLEDGE AND VARIOUS SKILLS. SINCE THESE FACTORS DIFFER ACCORDING TO INDIVIDUALS, WE CANNOT GUARANTEE YOUR SUCCESS OR INCOME LEVEL. NOR ARE WE RESPONSIBLE FOR ANY OF YOUR ACTIONS.

MATERIALS IN OUR PRODUCT AND OUR WEBSITE MAY CONTAIN INFORMATION THAT INCLUDES OR IS BASED UPON FORWARD-LOOKING STATEMENTS WITHIN THE MEANING OF THE SECURITIES LITIGATION REFORM ACT OF 1995. FORWARD-LOOKING STATEMENTS GIVE OUR EXPECTATIONS OR FORECASTS OF FUTURE EVENTS. YOU CAN IDENTIFY THESE STATEMENTS BY THE FACT THAT THEY DO NOT RELATE STRICTLY TO HISTORICAL OR CURRENT FACTS. THEY USE WORDS SUCH AS "ANTICIPATE," "ESTIMATE," "EXPECT," "PROJECT," "INTEND," "PLAN," "BELIEVE," AND OTHER WORDS AND TERMS OF SIMILAR MEANING IN CONNECTION WITH A DESCRIPTION OF POTENTIAL EARNINGS OR FINANCIAL PERFORMANCE.

ANY AND ALL FORWARD LOOKING STATEMENTS HERE OR ON ANY OF OUR SALES MATERIAL ARE INTENDED TO EXPRESS OUR OPINION OF EARNINGS POTENTIAL. MANY FACTORS WILL BE IMPORTANT IN DETERMINING YOUR ACTUAL RESULTS AND NO GUARANTEES ARE MADE THAT YOU WILL ACHIEVE RESULTS SIMILAR TO OURS OR ANYBODY ELSES, IN FACT NO GUARANTEES ARE MADE THAT YOU WILL ACHIEVE ANY RESULTS FROM OUR IDEAS AND TECHNIQUES IN OUR MATERIAL.

Copyright © Zamri Nanyan. All Rights Reserved.